The practice phrases are a traditional parallel verse (or "couplet") for the Lunar New Year or Tết in Vietnamese, which we celebrate in Plum Village every year.
We are very happy to announce the new Plum Village practice phrases to celebrate the upcoming Lunar New Year of the Pig. The phrase is a poetic gift that we can print out and post on the walls as a reminder to practice mindfulness.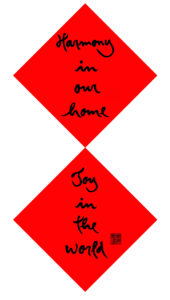 The couplet can be combined with our breathing. For example, we can contemplate "Harmony in our Home" as we breathe in, and contemplate "Joy in the World" as we breathe out. These words are not a declaration, but a living aspiration we wish to nurture.
In Plum Village practice centers all around the world, we print out these calligraphies (keeping the diamond form), paste them onto coloured card, and pin them up around the dining halls, meditation halls and living quarters in preparation to celebrate the Lunar New Year. We hang them (with the help of a little cotton thread) from early-blossoming Japonica and Plum branches that we bring in to brighten our rooms.